The trend is moving toward small companies having greater success with social media than larger companies. Small companies don't have to invest as much to make a big impact. Small companies hold the keys to success.
Every small business needs customers. Without qualified customers, it would be hard for any type of business (big or small) to survive in the long run.What's the best way to acquire customers? Social media marketing for small business has emerged as game changer.
It is important for all companies to approach social media in a proper planned manner. If you set up a routine in form of calendar that is easy to follow and yields positive results, you will be more inclined to stick to it.That applies to all businesses, however, smaller companies, because their size makes them easier to focus and manage, generally start to see results more readily than larger companies.
Above survey is from the year 2016 and if I estimate it according to 2019, It will not be wrong if change Strongly Agree percentage to 90% and Strongly Disagree to 0%. Every single person is using Android phone with active 3Gnetwork. Every shopkeeper wants maximum sales and they know now selling on internet is more money saving when we count on maximum reach in minimum time.
Let's look on some of the important tips for social media marketing of small business.
#1: Strong Plan with Clear Strategies
When it comes to social media marketing for small business, having a strong and a clear strategy is the first step towards finding success. There are many reasons when social media marketing may not result in what indented to but major time it is because they don't know what to do and in which order to do.

Solid social media marketing plan for small businesses.

A) Right Social Media Goals What are your expectations from social media? When using social media marketing for small business, it is important that you set goals and objectives that actually help you grow.

Let's take an example of  Facebook and align the business goals with Social goals.
B) Timely conduct Social Media Audit

By conducting a proper social media audit, you basically understand your current social media following and also learn which platform is mostly used by your customers so that you can capitalize on it.

A social media audit helps you understand the area of improvements. It also gives you the customer's interest information so that you can showcase only those things in which customer has an interest.
C) Build Up Your Social Media Presence
If you don't already have social media accounts for your company, it is time you create them. Once you are through this step, you will need to build your social media presence on the network of your choice. Every social platform has different kind of audience so we need to understand which platform will act as primary account to our business. This account will be mainly responsible for generating your potential leads and branding your products in market.
Your social media activities should also be in line with the likes and dislikes of your target audience. Regardless of what you want you achieve with your social media marketing activities, make sure that each of your accounts reflects your objectives and your core brand values.
D) Get Inspired by Other Brands
It is important to understand and keep an eye on your competitor's social networking. This can also help you in getting the placeholder which we would have missed and can generate us good customers.
Also, big brands give us an idea of what else we can do attract our customer by giving them some discounts, deals or offers.
So, it is always beneficial to follow such brands.
Remember, these big companies have huge budgets that they allocate for social media and a lot of what they do is backed by real research and understanding. When you grasp their way of doing things and see how they are implementing their social media tactics, it gives a real inspiration to formulate your own strategy.
E) Create a Social Media Calendar
Creating quality social media content is not enough. You also need to make sure that it reaches your followers on a consistent basis. An effective way to share the right kind of content is to use a social media calendar. Without complicating things, a social media calendar is nothing but a detailed schedule of the type of content you will be posting to each of your social media accounts. It gives you the much needed clarity to post social media updates that matter.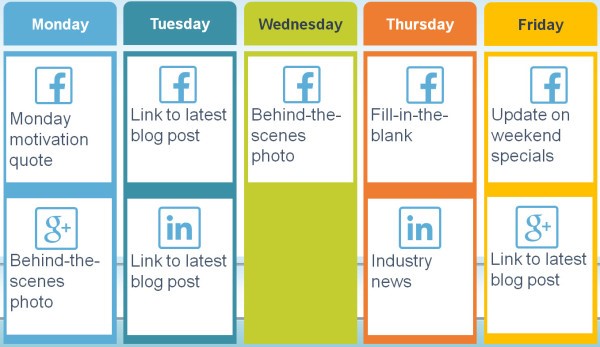 Having a clear social media calendar allows you to stay accountable, be consistent, save a ton of time, get more productive, and achieve peace of mind – all of which contributes to building are suits oriented social media marketing approach.
#2: Choose the Right Platform
One of the things that can impact your social media marketing for small business results is the choice of your platform. In order to get the most out of social media marketing for small business and make your brand stand out from the rest, it is crucial that you choose a platform that is suitable to your business goals. If not, you may end up spending your time and money on a social network that will most likely not give you a favorable return on investment.

Do not make the mistake of selecting a social media platform based on a wild estimate or on what others are doing. It is important that you take into consideration your target audience, their preferences, and other demographics before starting to work with a platform.
Let's look into three of the major social platforms, Facebook, Instagram, and LinkedIn and what makes them different.
1 Platform : Facebook
2 Platform : Instagram
3 Platform : LinkedIn
Use online survey information to analyze and find out what social media network would work best to help you grow your small business. If needed, you may have to spread out your efforts over multiple social media sites depending on your business goals.
#3: Campaigns on Social Media
Many small businesses think that social media is only about building a brand and growing awareness. But did you know that by not leveraging social networks for promoting your products you're actually living in ancient time. Social media is very big and when used the right way, it can bring in a large number of sales to your business.
Now, if you're thinking that promoting via social media is just about sending out a tweet or sharing a photograph on Instagram, then you're wrong. You need a targeted strategy to make sure you get the best results in minimum efforts or investment.
You have to manage social media followers by balancing valuable content with promotional content. In other words, most of your social media activity should be organic to build trust and add value to your followers lives because these followers persist.

Each social media site is different in terms of the content its users share.You have to fit in and create content that goes with the overall theme of the network.
Why small businesses have the social media marketing advantage
1. Small businesses are community and individual focused
2. Less expensive advertising
3. Joint social media marketing efforts
4. Personalized attention
5. Small businesses can piggyback on big advertising
If you have not gotten your business involved with social media thus far, it is not too late now. More and more people are jumping on the social media and If you need more advice on how to implement a strategy for social media marketing for small businesses – that's our specialty! Check out our social media management services and then schedule a time to talk about how you can leverage all the potential customers out there waiting to see your brand!